Get Pricing & Availability for Assisted Living in Overland Park, KS
Call (855) 481-6777 for immediate assistance and get more details
Page Reviewed / Updated – July 19, 2022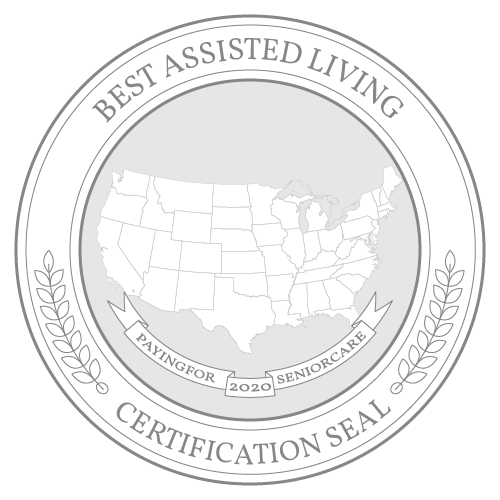 Overland Park, which is situated in the Kansas City metro region, is one of the more expensive places to live in Kansas. On a cost-of-living index based on a national median score of 100, the city's cost of living is rated 111.2, which is higher than the metro's rating of 89 and the state score of 83.1. However, older adults with limited incomes have access to several programs that make assisted living affordable, including the Medicaid Frail Elderly Waiver, which pays for assisted living and other senior care services. Local assisted living rates are moderately priced, with facilities charging an estimated $4,585 per month for services.
This guide provides more details on local assisted living costs, as well as ways seniors fund their care. It also features a list of resources that help older adults find the right care options for their needs and an overview of the best assisted living facilities in the Overland Park region.
The Cost of Assisted Living and Care in Overland Park, KS
Based on data from the 2021 Genworth Cost of Care Survey, seniors in Overland Park pay $4,585 per month for assisted living services.
Assisted living rates in Overland Park are consistent with state and national rates, which come in at $4,580 and $4,500, respectively. Local care costs are nearly $1,000 cheaper than assisted living rates in Wichita, which are the highest surveyed in the state at $5,425. In Manhattan, care costs are slightly lower but still exceed Overland Park's median at $5,398. In Lawrence, costs are moderate at $4,538, and in Topeka, rates are the lowest surveyed in Kansas at $4,495.
Overland Park: $4,585
Kansas: $4,580
United States: $4,500
Manhattan: $5,398
Topeka: $4,495
Lawrence: $4,538
Wichita: $5,425
The Cost of Other Types of Care in Overland Park, KS
The cheapest long-term care option in Overland Park is adult day health care, which comes in at $1,733 per month. Assisted living is several thousand dollars higher at $4,585, but it's affordable compared to basic in-home care and skilled home health care, which cost approximately $4,957 per month. Assisted living is also a cost-effective alternative to nursing home care, which provides around-the-clock skilled nursing services at $6,464 for semiprivate rooms and $7,908 for private accommodations.
In-Home Care: $4,957
Home Health Care: $4,957
Adult Day Health Care: $1,733
Assisted Living Facility: $4,585
Nursing Home Facility (semiprivate room): $6,464
Nursing Home Facility (private room): $7,908
Note: Data for Overland Park was unavailable, so data for the nearest city, Kansas City, MO, was used instead.
Financial Assistance for Assisted Living in Overland Park, KS
Other Ways To Pay for Assisted Living in Overland Park, KS
Since not everyone can afford to pay for assisted living out-of-pocket, it's important to find alternative methods to help make assisted living more affordable. Some of these options include:
Veterans Benefits
Life Insurance Policy
Long-Term Care Insurance
Reverse Mortgage
For additional information and planning, read our comprehensive guide to paying for senior care in Kansas.
Free Resources for Seniors in Overland Park, KS
The Overland Park region has free and low-cost resources for seniors that help them navigate public and veterans' benefits and find the best long-term care options for their needs.
| | | |
| --- | --- | --- |
| Resource | Contact | Service |
| Matt Ross Community Center | (913) 648-2949 | The Matt Ross Community Center is one of seven Neighborhood Centers in Johnson County. At this location, members have access to age-friendly exercise equipment, an indoor pool and a wide range of social and recreational programs. The center also hosts group exercise classes. It's open weekdays from 9 a.m. to 12:30 p.m., and hot meals are available to everyone aged 60 and over. |
| Johnson County Area Agency on Aging | (888) 214-4404 | The Johnson County Area Agency on Aging advocates for those aged 60 and over and offers a range of free programs to support healthy aging. It has specialists who provide information and referral services to help seniors connect with options counseling, legal and financial guidance and social and recreational activities. It also provides helpful information regarding Medicaid, long-term care and public benefits that may pay for assisted living. |
| Kansas Commission on Veterans Affairs, Overland Park Field Office | (913) 371-5968 | The state's Commission on Veterans Affairs operates the Overland Park Field Office. At this location, older veterans can get one-on-one help with obtaining community-based health and wellness services, transportation and counseling, along with assistance with applying for state and federal benefits that may offset or cover assisted living. The office provides in-person assistance at Overland Park's American Legion Post #370 on the second and third Tuesdays of the month, and individuals must call ahead to schedule an appointment. |
| Kansas Legal Services | (800) 723-6953 | Kansas Legal Services is a nonprofit legal firm that specializes in elder law and civil consumer issues. Through this organization, seniors get help with applying for Medicare, Medicaid and Supplemental Security Income, as well as navigating issues such as assigning guardianship and powers of attorney. The organization operates the Elder Law Hotline, which those aged 60 and over can contact at (888) 353-5337 for help with age-related matters. |
| Kansas City Medicine Cabinet | (913) 715-6653 | The Kansas City Medicine Cabinet provides short-term emergency medical help for those in the Overland Park region. Through this program, seniors can access vision screenings and eyeglasses, dental services, prescription medications and durable medical equipment, including hearing aids. To benefit from this program, seniors can obtain vouchers through Johnson County Outreach Services. |
Rules and Regulations for Assisted Living Facilities in Overland Park, KS
Assisted Living Communities in Overland Park are required to follow a set of rules and regulations that are determined by the state. For an overview of those rules and regulations, see the information below. For more specific information, talk with your local community or Area Agency on Aging.
The 10 Best Assisted Living Facilities in Overland Park, KS