Get Pricing & Availability for Assisted Living in Omaha, NE
Call (855) 481-6777 for immediate assistance and get more details
Page Reviewed / Updated – September 28, 2020
The 10 Best Assisted Living Facilities in Omaha, NE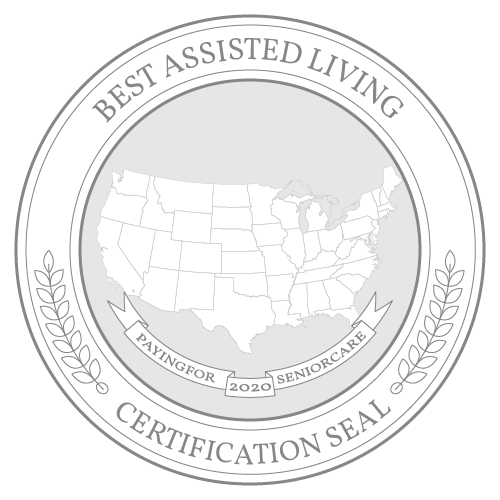 Omaha has one of the most expansive zoo and aquarium centers in the world, as well as numerous museums and cultural sites nearby. Durham Museum tells the story of Omaha and houses many unique items and memorabilia spanning centuries. There are just over 60,000 residents aged 65 and over currently in the area, according to the latest U.S. Census data.
Air quality is slightly above average in the city, which can help seniors live healthier and longer lives, and Omaha has 50% more physicians per capita than the country as a whole. However, health care costs are about 25% higher than average.
Scroll down to see the Omaha's assisted living communities that earned a place on our top 10 list. Additionally, find out more about the cost of assisted living in Omaha and what financial assistance programs are available.
The Cost of Senior Living and Care in Omaha
In Omaha, the cost of senior care is near the average for the state of Nebraska, with adult day care costs even falling a few hundred dollars below the state median. According to the Genworth 2018 Cost of Care Survey, both adult day care and nursing home care costs are cheaper in Omaha than the national averages.
How much does Assisted Living Cost in Omaha?
Of the metropolitan areas surveyed by the Genworth team, Omaha has assisted living costs that are in the middle — at $4,285 per month. The Lincoln area has the most expensive assisted living costs in Nebraska, with monthly fees accumulating to $1,100 more than in Omaha. However, the Grand Island area's assisted living costs are much more budget-friendly. Prices in this region are nearly 25 percent cheaper than in Omaha.
How much does Home Care Cost in Omaha?
Omaha's home care costs are $4,338 per month, the most economical throughout the state, landing home care in Omaha between $200 to $300 less expensive than in Grand Island or Lincoln and $143 less than the state median of $4,481.
Less expensive home care costs can be found within Nebraska's neighboring states, such as in Kansas where monthly prices in Wichita are just under $4,200.

How much does Adult Day Care Cost in Omaha?
Adult day care costs in Omaha are $1,354 per month, $200 cheaper than the state median. The other metropolitan areas that responded to the Genworth survey in Nebraska, Grand Island and Lincoln, both boast more affordable adult day care costs, with prices just over $1,000.
Some of the more expensive adult day care costs in the Nebraska region are in Wichita, Kansas with monthly fees almost hitting the $2,000 mark.

How much does Nursing Home Costs in Omaha?
With a monthly price of $6,965, Omaha's nursing home care costs are only $60 more than the Nebraska median. These prices are right in the middle of costs throughout the state. On one end of the spectrum is the Grand Island area, with nursing home care costs that are more than $1,000 cheaper than in Omaha; on the other is Lincoln, with prices that are 11 percent higher than in Omaha.
Financial Assistance Programs in Omaha
Medicaid Program in Omaha
Nebraska Medicaid Program
Through the statewide Medicaid long-term services and support programs, seniors residing in Omaha can get funding for many services, including:
Nursing home care
Prescription drugs
Physician services
Medical transportation
Hospital visits
Home health aides
Dental services
In order to be eligible for these Medicaid services, seniors must meet both the asset and income restrictions. Individual applicants cannot have an income that exceeds $1,041, or 100% of the Federal Poverty Level (FPL). Assets cannot exceed $4,000. Seniors who are looking to "spend down" their assets to qualify for Medicaid might wish to speak with a Medicaid expert before doing so. Applications for the statewide Medicaid program can be found online at ACCESSNebraska. All who apply and qualify will receive benefits.

Medicaid Waivers in Omaha
Aged and Disabled Medicaid Waiver
The Nebraska Aged and Disabled Medicaid Waiver, also known as the Home and Community-Based Services Waiver for Aged and Adults and Children with Disabilities, is a waiver program designed to help seniors remain living at home or in an assisted living facility, rather than be placed in a nursing home. This waiver can provide services such as:
Adult day care
In-home services
Accessibility modifications for vehicle and home
Home delivered meals
Medical transportation
Respite care
To qualify for this waiver, an Omaha senior must be at least 65 years of age or older, require a nursing home level of care and meet the statewide Medicaid financial requirements. Because this is a waiver, there is limited funding, and a waiting list might apply. Fortunately, the state doesn't have a history of waiting lists for this waiver program.
Applications can be made by contacting the local Area Agency on Aging, the Eastern Nebraska Office of Aging, at (402) 444-6536. More information about this program and its requirements can be found by reading our waiver guide.

Other Financial Assistance Programs in Omaha
Assistance to the Aged, Blind, or Disabled (AABD) Program
In Omaha and throughout the state, Nebraska's Assistance to the Aged, Blind, or Disabled (AABD) Program was established to offer low-income seniors cash assistance or medical care. Seniors aged 65 or older can receive both cash benefits or medical aid, depending on eligibility.
To receive cash payments, a senior's income and resources must be less than the AABD program's payment standards. These standards are difficult to understand, and applying for the program is encouraged, even if a senior doesn't think they will be accepted. More information about the payment standards can be found in our AABD guide.
Eligible seniors can use their cash payments to pay for a variety of services:
Food and clothing
Room and board
Home utilities or supplies
Transportation
Seniors who are interested in this program can complete the application online.
Disabled Persons and Family Support (DPFS) Program
The Disabled Persons and Family Support (DPFS) Program assists seniors with disabilities by allowing them to choose their own caregiver (including family members) who will then be paid through the state's funding. Seniors can spend up to $300 per month, with the hourly rate for the caregiver determined by the senior and the chosen caregiver. Omaha residents can use these funds to pay for services such as:
Home delivered meals
Personal care
Incontinence supplies
Housekeeping
Transportation
Additionally, this program covers expenses for home modification and accessibility, including such items as walk-in showers or wheelchair ramps.
Eligibility for the DPFS program depends on whether or not the senior has a formal disability and if they are living at home. Financial limits are as follows, with additional requirements for assets:
A monthly income not exceeding $1,364 for single individuals
A monthly income not exceeding $1,784 for married couples
The DPFS program is not an entitlement, which means waiting lists might be a barrier to entry. Interested seniors can apply online or by calling (402) 471-9220. Read our DPFS guide to learn more about this program.
Lifespan Respite Subsidy Program
The Lifespan Respite Subsidy Program exists to give respite to an elderly loved one's full-time caretaker by paying for an additional, temporary caregiver through a maximum monthly subsidy of $125. This respite care can be given at the senior's home, in an adult day care or in other approved facilities (such as a senior center).
In order to be eligible for these services, the senior in need of care must meet the following requirements:
Be a resident of Nebraska
Live at home with an unpaid caregiver
Have a chronic condition (such as Alzheimer's or dementia) or difficulty with activities of daily living (ADLs)
Have a monthly income not exceeding $3,157 for single individuals or not exceeding $4,280 for married persons
Meet asset limits
Seniors might wish to be aware that anyone living in a nursing home or assisted living facility is not eligible for these services. Additionally, those receiving other respite care services through an other federal or state program do not qualify for the Lifespan Respite Subsidy Program.
The application for this program is found on the Nebraska Department of Health and Human Services webpage. Interested applicants can also call (402) 471-9188 for more information. Read more about this program on our Lifespan Respite Subsidy Program page.
Personal Assistance Services (PAS) Program
Through the Personal Assistance Services Program, family members can be paid caregivers to elderly loved ones in Omaha (as long as the family member is not a legal guardian for a minor). To be eligible for the PAS program, a senior must:
Have a chronic medical condition or disability that necessitates a caregiver
Meet Medicaid income restrictions (listed above; married income limits increase to $1,409 per month)
Be a legal resident of Nebraska
To apply, Omaha seniors can visit any of the local Health and Human Services offices. Because PAS is part of Medicaid, all applicants who meet the requirements can receive these services. Additional information about the PAS program can be found here.
Social Services for Aged and Disabled Adults (SSAD) Program
The Social Services for Aged and Disabled Adults (SSAD) Program helps elderly Omaha residents to live independently as long as possible by providing services to the senior and the senior's caretaker.
Because this program serves a variety of people, qualifications are complicated and may vary. Omaha seniors are eligible for the SSAD benefits if they:
Are at least 60 years of age (or younger if legally blind or disabled; more information about what is considered "disabled" can be found on the state's SSAD website)
Are living at home or temporarily in a facility with the intent to return home
Meet the established income limits (less than $1,148 per month for single individuals or less than $1,288 per month for married persons)
Benefits from this program include, but are not limited to, the following services, and are dependant on the initial assessment of the senior:
Adult day care
Congregate meals or meal delivery
Housecleaning, chores and laundry services
Limited personal care
Transportation for medical appointments
Omaha residents can find more information and apply for this program by visiting one of the three Health and Human Services offices in Douglas County, found here. More details about eligibility can be found by referring to our SSAD webpage.
More Senior Living Resources in Omaha
| | | |
| --- | --- | --- |
| Resource | Phone Number | Description |
| Douglas County Housing Authority | (402) 444-6203 | The Douglas County Housing Authority oversees Section 8 Housing Choice Voucher program. This program enables low-income seniors to find affordable housing throughout Omaha. A list of affordable housing options can be found here. |
| Eastern Nebraska Office on Aging Personal Care Services | (402) 444-6536 | The Personal Care Services program provides care aides to perform personal care services for Omaha seniors for a low cost (based on income and a sliding scale fee). These services, which include assistance with Activities of Daily Living, such as bathing and grooming, are not denied to anyone because of inability to pay. |
| Eastern Nebraska Office on Aging Care Management Services | (402) 444-6536 | Care managers assess the needs of every senior and make recommendations about appropriate resources throughout the community that a senior might need. These care managers do not charge a fee unless the senior's income is more than 150 percent of the poverty guideline. |
For additional information and planning, please read our comprehensive guide to paying for senior care in Nebraska.