Get Pricing & Availability for Assisted Living in Lincoln, NE
Call (855) 481-6777 for immediate assistance and get more details
Page Reviewed / Updated – November 28, 2020
The 10 Best Assisted Living Facilities in Lincoln, NE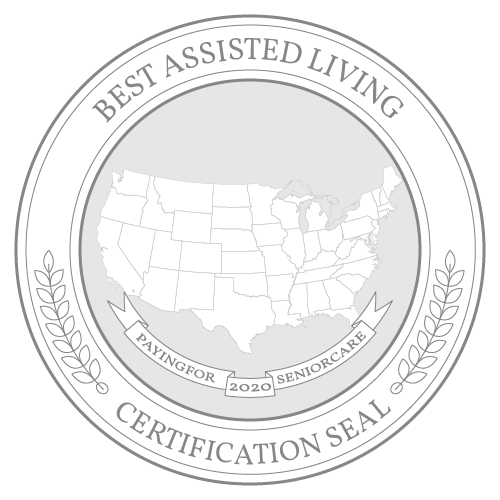 With a rapidly growing economy, Lincoln has much to draw new residents, and the population has grown to 258,379 people. That large size means medical care, entertainment and assisted living communities are abundant in the city. It's ranked as one of the best mid-sized cities to live in for safety and security, which makes it a great place to consider for retirement.
When seniors make the move to Lincoln, one of the things they notice is that they breathe a little freer because the community has a very high air quality ranking. As the state's capital city, Lincoln has much to offer active seniors who make the move to this city. When they want to take an afternoon stroll, the Sunken Gardens around the Nebraska State Capital are a popular and beautiful location, especially in the spring. Several museums provide a chance to explore the people and culture of the area.
Check out this list of the top 10 assisted living communities in Lincoln. Additionally, find out more about the cost of assisted living in Lincoln and what financial assistance programs are available.
The Cost of Senior Living and Care in Lincoln
Lincoln seniors pay more than the state average for care in most categories included in the Genworth 2018 Cost of Care Survey. Adult day care is a notable exception, at an affordable price point more than $500 below the state average. While Lincoln is on the high end compared to other areas in Nebraska, senior care is generally affordable statewide compared to national averages. Only home health services cost more in Lincoln than nationwide.
How much does Assisted Living Cost in Lincoln?
Lincoln seniors pay the most for assisted living at an average of $5,429 per month, nearly $1,600 less than the state average of $3,844. Grand Island is at the low end for assisted living at just $3,240, while cities in neighboring states like Kansas City and Wichita fall between $4,000 and $4,750. Omaha, the other major metropolitan area in Nebraska, falls solidly in the middle between Lincoln and Grand Island at $4,285 per month.
How much does Home Care Cost in Lincoln?
Home health services cost an average of $4,671 per month in Lincoln, just $190 more than the state average. While Lincoln seniors pay more than other areas in Nebraska, services are comparable in other cities. In Omaha, the average is $4,338 – just $333 less than in Lincoln. Kansas City, which is only 160 miles away, averages $4,004, a substantial savings compared to Lincoln. Grand Island is the closest in price at $4,576.
How much does Adult Day Care Cost in Lincoln?
For adult day care services, Lincoln seniors can expect to pay $1,026 per month — well below the state average of $1,555. While the cost is highest in rural areas, Lincoln seniors pay the least for adult day care. The average in Omaha is $1,354, which is $328 more than in Lincoln. Grand Island seniors can expect a comparable price at an average of $1,064. Kansas City and Wichita both exceed the Nebraska state average at $1,733 and $1,934, respectively, putting them at the higher end.
How much does Nursing Home Costs in Lincoln?
Nursing homes offer the highest level of care for seniors, and the price reflects that at an average of $7,756 in Lincoln. Grand Island seniors pay substantially less for nursing home costs at an average of $5,779. When looking for affordable nursing home options, it may be best to look across state lines, since the Kansas City average is $5,582. That's $2,174 less than in Lincoln. Compared to the rest of the state, Lincoln is at the high end — costs run $851 more than the state average.
Financial Assistance Programs in Lincoln
Medicaid Program in Lincoln
Medicaid, jointly funded by federal and state governments, offers low-income residents access to health insurance. Each state administers the program and determines the type and scope of covered services. For Lincoln residents, Medicaid covers a variety of general health services and care specifically for seniors. Some examples of covered services include:
Doctor's visits
Nursing home care
Prescription drugs
Medical transportation
Hospital admissions
Home health services
Dental care
To qualify for Medicaid services, seniors must meet asset and income guidelines for the state. In Lincoln, seniors can earn more than 100% of the Federal Poverty Level (FPL), which is $1,041 per month for individuals or $1,409 for a married couple.
For asset qualification, it's important to remember that seniors can't give away countable assets at below market value. Medicaid has a 60-month look back period and may deny anyone who used gifts in an attempt to avoid the asset limitation. Currently, a senior's assets are capped at $4,000, though a home valued at $585,000 or less, personal belongings, home furnishings, a vehicle and a few other types of assets are excluded from the total.
The medically needy pathway to Medicaid is also an option for those who earn in excess of the current income limit. A Medicaid expert can help with this process, which can be complicated. To apply, visit ACCESSNebraska.
Medicaid Waivers in Lincoln
Aged and Disabled Medicaid Waiver
The Nebraska Aged and Disabled Medicaid Waiver is a Home and Community-Based Services Waiver designed for the frail, elderly or disabled. This waiver program helps seniors live at home or in an assisted living facility, delaying or avoiding long-term nursing home placements. Some services covered under this waiver include:
Adult day care
In-home personal care services
Home modifications to improve accessibility
Meal delivery options
Medical transportation
Respite care
Qualified Lincoln applicants are seniors who are at least 65 years old, would otherwise need a nursing home placement, and meet the financial guidelines for full Medicaid eligibility. This is a waiver program, not an entitlement, so spending limits may create a waiting list. Currently, all accepted applicants are able to receive services, but that may change.
To apply, seniors can contact the Lincoln Aging Partners agency at 402-441-7070. For more information about the program, read our guide to this waiver.
Personal Assistance Services Program
The Personal Assistance Services (PAS) program is for seniors with a chronic medical condition or disability. It's intended to assist those who need care levels similar to those offered in an assisted living or nursing home facility. Services provided are designed to help seniors continue living at home and may include help with:
Medication management
Homemaker assistance
Adult day care
Personal care assistance for ADLs, such as grooming, dressing and eating.
PAS is an entitlement program, and any eligible senior may receive services through this program. Part of the program is the ability to self-direct care. This means that seniors may choose a primary caregiver and pay them using PAS funds for the service. Even some family members may qualify as a paid assistant. Seniors must choose a family member who is not their legal guardian and who is not a minor.
To qualify, Lincoln seniors must:
Have a diagnosed medical condition or legal disability the requires caregiver assistance
Meet all Medicaid income and asset restrictions
Maintain Nebraska as their legal state of residence
Applicants can visit any Health and Human Services office to meet with a social worker and get help with the application process. For more information about the PAS program, check out our guide.
Other Financial Assistance Programs in Lincoln
Assistance to the Aged, Blind, or Disabled (AABD) Program
For those experiencing a temporary disability or limited time of low-income, Nebraska offers Assistance to the Aged, Blind, or Disabled (AABD) Program. Under this program, seniors may receive both cash assistance and medical care services. Seniors must be at least 65 years old and income eligible. AABD income limitations can be difficult to understand, so seniors are encouraged to apply if they have been denied Supplemental Security Income due to lack of duration.
For more information about the income eligibility requirements, check out our AABD guide. If approved for this program, seniors can use the provided funds on services that include room and board, clothing, utilities, transportation, and other daily living expenses.
Disabled Persons and Family Support (DPFS) Program
The Disabled Persons and Family Support (DPFS) program offers seniors with disabilities the option to choose their own caregiver using state-provided funds. Family members are eligible to provide paid care, though the amount caps at $300 per month, with an hourly rate negotiated directly between the senior and their chosen care provider. Some covered services include:
Home meal delivery
Personal assistance care
Incontinence supplies
Light housekeeping
Nonmedical transportation
This program may also cover some home modifications like the installation of handrails, wheelchair ramps or creating walk-in showers.
Eligible seniors must have a legally recognized disability and live in their own home or in the home of a friend or family member. Residents at assisted living facilities or nursing homes do not qualify. The financial limits for this program are somewhat flexible. While individuals cannot earn more than $1,364 and married couples are limited to $1,784, medical deductions are allowed. It's not uncommon for recipients to earn as much as 50% more than the guidelines, before deductions.
This program is not an entitlement program, and waiting lists may apply. For more information about this option, read our guide.
Lifespan Respite Subsidy Program
The Lifespan Respite Subsidy Program is geared toward helping a senior's loved ones manage the burden of being a full-time caregiver. This program helps by providing respite care through hiring a temporary caregiver. The maximum monthly subsidy is $125. Respite care may be provided in the senior's home or at an adult day care facility.
To qualify for this program, seniors must:
Be a legal Nebraska resident
Live at home under the care of an unpaid provider
Have a diagnosis of a chronic condition or demonstrate the need for assistance with activities of daily living
Earn a maximum of $3,157 for individuals or $4,280 for married couples
This program is only available to seniors living in a residential setting, not those currently residing in an assisted living facility or nursing home. Also, participation in any other federal or state respite programs automatically renders seniors ineligible for the Lifespan Respite Subsidy Program.
The Nebraska Department of Health and Human Services administers the program, and seniors may apply at any local office. Learn more about this program through our Lifespan Respite Subsidy Program guide.
Social Services for Aged and Disabled Adults (SSAD) Program
The Social Services for Aged and Disabled Adults (SSAD) program aims to delay institutional placements by helping Lincoln seniors age in place. The services provided may cover everything from adult day care to chores and laundry services. Meal delivery, personal care, transportation for doctor's appointments and house cleaning may all be covered under the SSAD program.
Lincoln seniors may be eligible for the SSAD program is they are at least 60 years old, living at home or with an intent to return home after a rehab stay, and meet the monthly income limits of $1,148 for individuals and $1,288 for a married couple.
Lincoln residents can apply for this program at any local Health and Human Services office. For more information about eligibility and benefits, take a look at our guide.
More Senior Living Resources in Lincoln
| | | |
| --- | --- | --- |
| Resource | Phone Number | Description |
| | (402) 441-7070 | The Lincoln Housing Authority manages Housing Choice Vouchers and HUD-subsidized apartment rentals. Qualified applicants typically pay no more than 30% of gross income for rent and utilities may be included. Each apartment building may maintain a separate waiting list and wait times can be very long. |
| | (402) 471-3121 | Seniors who live alone and earn an annual income of $15, 782 qualify for The Low Income Home Energy Assistance Program (LIHEAP), a federally funded program that gives seniors financial assistance for heating and cooling costs. Seniors who live with others may still qualify if the household income meets eligibility requirements. |
| | (402) 441-7030 | Coordinated by Aging Partners, the Home Handyman program offers seniors assistance with home maintenance/repair and yard work. Providers are typically volunteering their experience handling issues with plumbing, HVAC, electrical and gutter systems. Sliding scale fees are assessed based on income. |
For additional information and planning, please read our comprehensive guide to paying for senior care in Nebraska.