Get Pricing & Availability for Assisted Living in Des Moines, IA
Call (855) 481-6777 for immediate assistance and get more details
Page Reviewed / Updated – July 19, 2022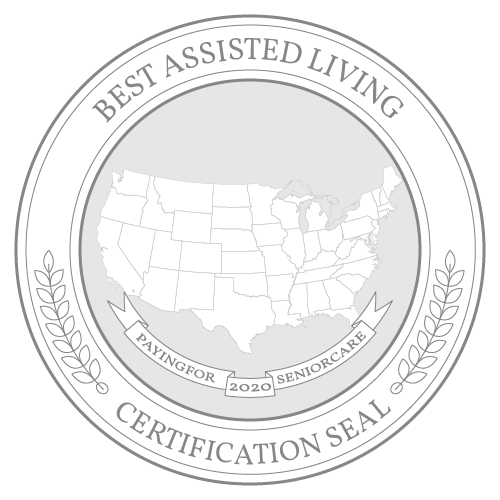 With a cost of living that's about 19% lower than the U.S. average, Des Moines is an appealing choice for seniors on a fixed income. While health care costs in the city are higher than average, transportation and grocery costs are lower than average, which may help offset assisted living costs. Assisted living in Des Moines costs an average of $4,803 per month, which is $436 higher than the statewide average of $4,367.
Iowa has moderately friendly tax policies for seniors. Social Security benefits aren't taxed at the state level, and other types of retirement income are only partially taxed. Iowa is one of few states that has an inheritance tax, and property taxes are somewhat higher than average.
This guide covers the average monthly costs for assisted living in Des Moines. It also goes over many of the local resources available to help support seniors.
The Cost of Assisted Living and Care in Des Moines, IA
According to the 2021 Genworth Cost of Care Survey, seniors in Des Moines pay $4,803 per month for assisted living care.
Des Moines' assisted living costs are $436 higher than the state average of $4,367 per month and $303 higher than the national average of $4,500. Assisted living costs in Des Moines are higher than in other cities in the state. Ames and Cedar Rapids have only slightly lower costs at $4,655 and $4,748 per month, respectively, while costs in Sioux City are significantly lower at $4,148 a month.
Des Moines: $4,803
Iowa: $4,367
United States: $4,500
Cedar Rapids: $4,748
Sioux City: $4,148
Ames: $4,655
The Cost of Other Types of Senior Care in Des Moines, IA
Assisted living is one of the more affordable senior care options in Des Moines, costing $4,803 per month, including accommodations and care. Seniors who receive care in their own homes pay about $1,000 more for both in-home care and home health care, which both cost $5,815 monthly. Nursing home care is the most expensive option in Des Moines, with seniors paying $7,148 per month for semiprivate rooms and $7,756 for private rooms. The cheapest care senior care option in Des Moines is adult day health care, which costs $1,517.
In-Home Care: $5,815
Home Health Care: $5,815
Adult Day Health Care: $1,517
Assisted Living Facility: $4,803
Nursing Home Facility (semiprivate room): $7,148
Nursing Home Facility (private room): $7,756
Financial Assistance for Assisted Living in Des Moines, IA
Other Ways To Pay for Assisted Living in Des Moines, IA
Since not everyone can afford to pay for assisted living out-of-pocket, it's important to find alternative methods to help make assisted living more affordable. Some of these options include:
Veterans Benefits
Life Insurance Policy
Long-Term Care Insurance
Reverse Mortgage
For additional information and planning, read our comprehensive guide to paying for senior care in Iowa.
Free Resources for Seniors in Des Moines, IA
Des Moines has several local resources that can help seniors research local assisted living facilities, locate options for covering care costs and connect with community-based resources.
| | | |
| --- | --- | --- |
| Resource | Contact | Service |
| Aging Resources of Central Iowa | (800) 747-5352 | The Area Agency on Aging of Central Iowa serves those aged 60 and over with issues that affect their standard of living. This can include help with health care services, finding and applying for public benefits and financial advice and assistance. Aging Resources of Central Iowa conducts classes on senior issues, such as fall prevention, diabetes management and living with chronic illness or disability. Volunteers at the agency can help local seniors with referrals to outside programs that help with utility bills, nutrition assistance and direct financial aid. |
| Senior Health Insurance Information Program (SHIIP) | (855) 408-1212 | SHIIP provides confidential and unbiased health information and advice to seniors across the state. This is the program Iowa seniors can reach out to for answers about Medicaid and Medicare programs, assisted living waiver requirements and referrals to free resources for senior living. Program volunteers can also answer questions about long-term care insurance and provide some guidance regarding Medicare supplemental and other forms of health insurance. |
| Iowa Legal Aid | (800) 992-8161 | Iowa Legal Aid offers guidance and representation for seniors in Des Moines who need help with legal issues. Topics the center helps with include estate planning, long-term care issues and the complex legal and financial issues many seniors have to deal with. Legal experts working for the center provide free legal advice and help with understanding contracts, insurance matters and appeals for disability or other benefits programs. Seniors and people with limited incomes can appeal to the center for help with Medicaid and Medicare benefits, Social Security denials and assisted living rules and regulations. Iowa Legal Aid offers all of its sessions remotely. |
| Des Moines Vet Center | (515) 284-4929 | The Des Moines Vet Center helps honorably discharged veterans apply for benefits they may be eligible for through the VA, such as Aid and Attendance, veterans' disability payments and pension programs that can be used to help with assisted living expenses. The VA also arranges transportation for veterans who need it, as well as health services through the VA health system. |
| Des Moines Parks and Recreation | (206) 878-1642 | The Des Moines Parks and Recreation department provides a safe and welcoming social environment for seniors aged 60 and over at its public facility on 216 Street. While the Mayor's office has indefinitely suspended many of the in-person programs the center operates, congregate meals and remote events are still available through the center. Remote-learning classes on senior fitness and lifestyle topics are available to members. |
Rules and Regulations for Assisted Living Facilities in Des Moines, IA
Assisted Living Communities in Des Moines are required to follow a set of rules and regulations that are determined by the state. For an overview of those rules and regulations, see the information below. For more specific information, talk with your local community or Area Agency on Aging.
The 10 Best Assisted Living Facilities in Des Moines, IA