Get Pricing & Availability for Assisted Living in Des Moines, IA
Call (855) 481-6777 for immediate assistance and get more details
Page Reviewed / Updated – November 28, 2020
The 10 Best Assisted Living Facilities in Des Moines, IA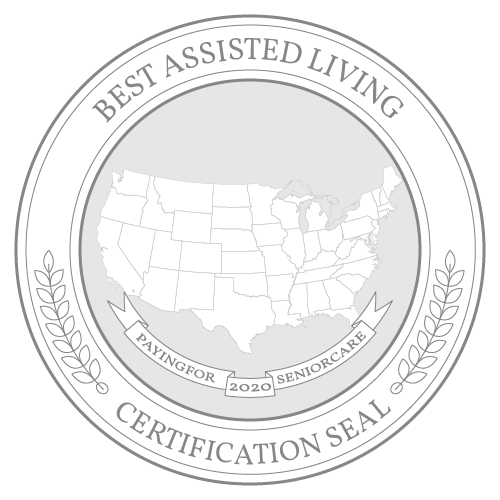 Named the seventh-best place to live in the United States by U.S. News & World Report, Des Moines, IA is on everyone's radar it seems. In fact, Des Moines has experienced a population burst and is now considered one of the fastest-growing metros in the Midwest. It should come as little surprise that its senior population is growing as well, but the city is well-prepared with an array of assisted living options and a wealth of senior programs run by the Des Moines Park & Recreation Department.
Seniors enjoy exploring the 75 parks and 4,000 acres of land owned by the Des Moines Parks and Recreation Department including the vibrant Western Gateway Park which houses a sculpture park within it and hosts regular farmer's markets to explore. Seniors that are more adventurous can easily navigate the city via the DART bus system which offers a half-fare program to seniors over the age of 65. In addition, the low cost of living in Des Moines makes it an affordable place to retire for those who want big-city amenities at suburban prices.
Keep reading to discover the top ten assisted living facilities in Des Moines, IA. Additionally, find out more about the cost of assisted living in Des Moines and what financial assistance programs are available.
The Cost of Senior Living and Care in Des Moines
Long-term care for seniors is relatively expensive in Des Moines when compared to Iowa as a whole. According to the Genworth 2018 Cost of Care Survey, nursing home costs are roughly 10% higher, although other levels of care, such as assisted living, home care and adult day care, are just slightly more expensive than the state average.
How much does Assisted Living Cost in Des Moines?
Assisted living in Des Moines has a monthly cost of $3,950, which is approximately $100 higher than average for Iowa. In nearby Ames, the cost is very similar at $3,964. Sioux City has the lowest cost in Iowa at an average of $3,050 per month.
Iowa City and Dubuque are the most expensive areas for assisted living in the state, with average costs of $4,175 and $4,100 per month, respectively.
How much does Home Care Cost in Des Moines?
Des Moines and nearby Ames share the same average cost for in-home services at $4,767 per month, which is roughly $200 more than Iowa's average. The lowest cost for this level of care is in Davenport, with an average of $4,004 per month, followed by Cedar Rapids at $4,195.
Sioux City has the highest cost in the state, and it's considerably higher at $5,243 per month.
How much does Adult Day Care Cost in Des Moines?
Adult day care services are relatively expensive in Des Moines, with an average cost of $1,490 per month, compared to the state average of $1,353. In nearby Ames, the cost is even higher at $1,733 per month, which makes it the most expensive area in the state.
Sioux City is the most affordable area for adult day care in Iowa, with an average cost of $764 per month, which is almost half that of Des Moines.
How much does Nursing Home Costs in Des Moines?
Nursing care costs in Des Moines are at an average of $6,631 per month, which is approximately 10% higher than Iowa's average of $6,083. The cost in nearby Ames is higher still, making it the most expensive in the state at $7,118 per month.
Davenport and Sioux City are the most affordable areas in Iowa for nursing home care, with costs of $5,627 and $5,840 per month, respectively.
Financial Assistance Programs in Des Moines
Medicaid Program in Des Moines
Des Moines residents aged 65 or older, and people with disabilities, can receive federal health benefits through Iowa Medicaid. Seniors are served through the state's managed care program, known as IA Health Link, which is an entitlement for all eligible residents.
Medicaid members receive coverage for nursing facilities and in-home services, such as health aides and skilled nursing. Many other medical services are also covered, including doctor care and prescription medication, preventive and routine checkups, hospital care and outpatient services. Case management may be provided if necessary.
Additional services may also be covered through the waivers described below, although Iowa's options for financial assistance are limited compared to other states. Waiver services aren't provided as part of the state entitlement program and there is a participation cap.
Iowa Medicaid eligibility requirements for seniors:
Aged at least 65 years old
United States citizen and resident of Iowa
Maximum monthly income of $2,313 per month for an individual
Maximum asset value of $2,000 for an individual
Higher amounts are allowed for assets and income in the case of married couples. If both are applying for coverage, the income limit is $4,626 per month and the asset limit is $3,000. If only one spouse is applying, the non-applicant spouse's income is mostly disregarded and a much higher asset limit is allowed.
Apply for Iowa Medicaid and the IA Health Link program online at the DHS Services Portal, or call (855) 889-7985 for assistance during business hours. Des Moines residents can also visit the local DHS Office at 2309 Euclid Avenue.
Medicaid Waivers in Des Moines
Home and Community-Based Services (HCBS) Elderly Waiver
Iowa Medicaid offers additional services to eligible members through the HCBS Elderly waiver. This waiver helps seniors remain in the community by facilitating options that will keep them living in their own home or with family, instead of being put into institutionalized care.
Recipients are covered for a set of services tailored to their condition and abilities, which may include:
Meal delivery, homemakers and chore assistance
Home health aides and senior companionship
Respite for caregivers
Transportation
Emergency and assistive devices
Home and vehicle modifications
Consumer-Directed Attendant Care (CDAC) is a part of this waiver that helps recipients perform activities of daily living, such as bathing, dressing and preparing meals when they're no longer able to do so alone. Skilled services including tube feeding, catheterizations and other in-home nursing care can also be provided.
Consumer Choices Option (CCO) gives waiver recipients more control over their Medicaid coverage by allowing them to hire caregivers and other employees. Alternatively, the recipient can choose not to hire anyone and instead spend their allotted funds on medical goods and services. Counseling is available to help seniors and their families make informed choices.
None of the waiver services are considered entitlements in Iowa, which often results in long waiting lists. Applicants must meet all eligibility requirements for Medicaid, and they must also be assessed by staff to determine that they require either nursing or skilled levels of care.
Des Moines residents should contact their case manager to apply for waiver services, or ask their Medicaid managed care organization (MCO) under the IA Health Link program.
Read more about these options in our Iowa Medicaid HCBS Elderly Waiver Guide.
Home Health Services (HHS)
The HHS program helps seniors in Des Moines, who are living in their own home or elsewhere in the community, obtain in-home medical visits.
In-home services available through the HHS program include:
Skilled nursing
Health aides
Therapies
Medical social services
Applicants must be assessed by a physician, and it must be determined that they have a medical need for these services. There is often a waiting list for HHS coverage because it's not an entitlement program.
Seniors or their caregivers should contact their Medicaid case manager to apply for Home Health Services.
Program of All-Inclusive Care for the Elderly (PACE)
PACE is a managed care program for Medicaid recipients who live in a community home, which is a term used to describe any private residence. The goal of this program is to provide the level of care required without placing the individual in a nursing facility.
Members receive care at a local PACE Center, which covers physician and nursing services, therapies, personal care, meals and nutritional counseling.
A team of specialists at the PACE Center helps members develop a plan of care while they're living in the community, and they also help during the transition to other forms of care if necessary, such as a hospital or nursing facility.
Applicants must be eligible for Medicaid or Medicare, meet the medical criteria for nursing care and be aged 55 years or older. They must also live in an area served by the program – Des Moines and Polk County as a whole are covered by PACE.
The PACE service provider for Polk County is the Immanuel Pathways program. Visit the website or call (515) 207-6251 to begin the application process.
Other Financial Assistance Programs in Des Moines
Case Management Program for the Frail Elderly (CMPFE)
The Case Management Program helps seniors and caregivers by developing a plan of care that allows them to stay out of nursing homes for as long as possible. It's designed for low-income seniors –– the income and asset restrictions aren't published, although Des Moines residents who can't get Medicaid coverage may be able to qualify for some CMPFE services.
Access to services, as well as any costs that the recipient may be responsible for, is determined by ongoing assessments. For example, an individual with high medical care needs and a very low income is given access to more services at a lower cost. Some services are free for all recipients.
Services available under CMPFE include:
Adult day care and in-home companionship
Assistive technology and disability modifications
Help with activities of daily living
Groceries, cleaning and food preparation
Private duty nursing
Respite care
Transportation to appointments
CMPFE is part of the Iowa Senior Living Program. Apply for services by contacting Aging Resources of Central Iowa through the website, or by calling (515) 255-1310. This agency is partnered with the state to serve Des Moines and all of Polk County.
Read more in our Iowa Senior Living Program – Case Management guide.
Iowa Able Foundation Loan Program
Seniors in Des Moines who can't qualify for Medicaid but still need help with the costs related to senior care may be able to obtain a loan from the Iowa Able Foundation.
Although these loans won't help pay for long-term care in assisted living environments or elsewhere, they can provide the upfront funds needed to modify a home or vehicle for accessibility. These funds can also be used to purchase assistive devices such as wheelchairs and other mobility aids, electronics, grab bars and prosthetic devices.
There is no age restriction for this loan program. Applicants must be residents of Iowa and able to show evidence they can pay back the loan. Applicants may also be asked to provide medical proof of need and price estimates on assistive technology or other purchases they intend to make.
Apply for a loan online at the Iowa Able Foundation website, or call (515) 292-2972 for more information.Read more details in our Iowa Able Foundation loan program guide.
More Senior Living Resources in Des Moines
| | | |
| --- | --- | --- |
| Resource | Phone Number | Description |
| Des Moines Housing Services | (515) 323-8950 | The Des Moines Municipal Housing Agency manages public housing units in the area. It also administers federal funding for the Housing Choice Voucher program in the city and nearby areas. These programs help low-income community members find affordable housing or obtain assistance in paying rent in their current dwelling. |
| Fort Des Moines Senior Housing Apartments | (515) 285-8505 | This community is designated for low-income seniors and has 60 one or two-bedroom units. Housing Choice Vouchers (Section 8) are accepted and can be applied for at the Housing Services agency listed above. |
| Walden Point Apartments | (515) 288-9985 | This community has 60 units for low-income seniors in Des Moines. It has one and two-bedroom apartments, elevators and individual temperature control. Housing Choice Vouchers are accepted. |
| IMPACT – Utility Assistance | (515) 518-4770 | The local Community Action Program is responsible for managing the federally funded LIHEAP program in Polk County, which helps low-income residents pay for some of their heating costs during winter. Income and other factors determine the level of assistance. |
For additional information and planning, please read our comprehensive guide to paying for senior care in Iowa.